HERITAGE
At a time when natural gas was widely understood as an undesirable by-product of oil production, Crescent took a long-view of the regional market and invested its resources accordingly, pioneering a number of initiatives that placed us at the forefront of the region's integrated long-term gas projects.
The key milestones in our 45-year long history is presented below
CRESCENT PETROLEUM'S CONTRIBUTION TO SHARJAH ECONOMY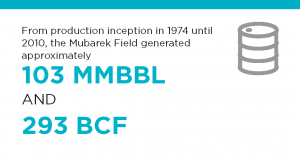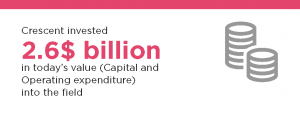 Enabling education: Supporting the American University of Sharjah (AUS)
As long-time supporters of the University, we work closely with them on numerous academic initiatives to foster academic growth in the UAE.
Crescent Petroleum has invested over US$9 million in such projects, most notably the construction of the Research, Innovation, and Technology Park at AUS.
Regional Gas Player: Pioneered UAE's intra-emirate gas market
Crescent Petroleum pioneered commercial intra-emirate gas supply and sales arrangements in the United Arab Emirates (UAE).
Based on gas supplies from Sharjah to Dubai and built a dedicated 92km offshore pipeline and associated central gas processing facility from its Mubarek field to Jebel Ali, Dubai. Being a pioneer in developing this market led to the formation of Dana Gas as the region's first privately held gas company in 2005.