Our commitment to the environment
We work to minimise our environmental impact by promoting process efficiency in all of our operations. We also support organisations and events that promote cleaner energy and sustainability in the wider region.
In January 2020 we outlined a range of efforts to help reinforce our sustainability, including long-term reduction of operational flaring, implementing plans to eliminate single-use plastics from our locations, and reducing our use of water, electricity, and fuel.
Our commitment to the UN SDGs:
| | |
| --- | --- |
| | We are committed to reducing our water footprint through recycling and reuse. |
| | We promote responsible energy consumption across our operations. |
| | We continuously seek to reduce flaring and recycling waste. |
| | We are consistently working towards reducing our greenhouse gas (GHG) emissions while ensuring zero significant oil spills. |
2019 and 2020 Highlights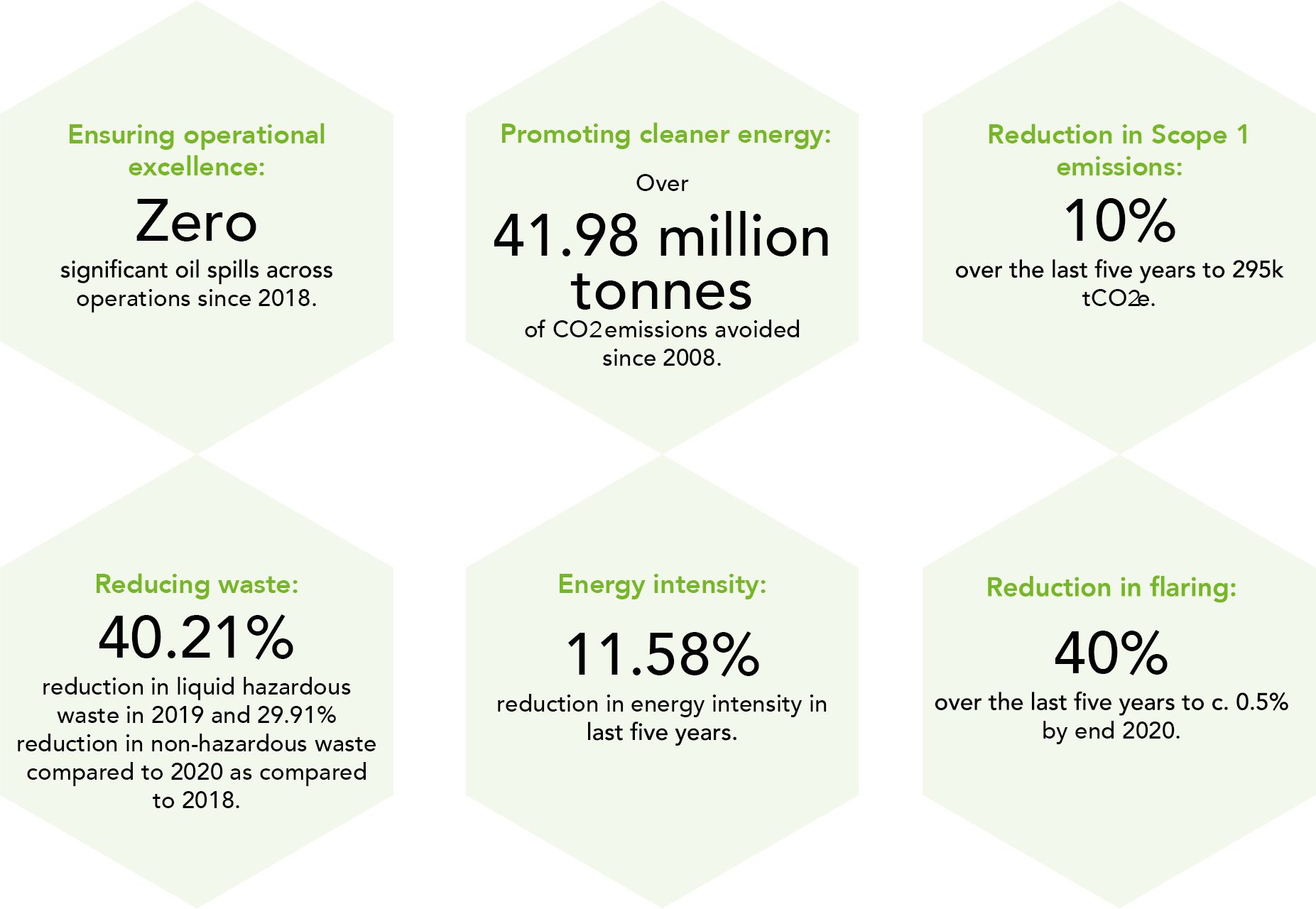 Our approach to the energy transition and to mitigating climate change
We recognise the impact of carbon emissions on climate change and support the goals of the Paris Agreement, adopted at COP21 in 2015 to substantially reduce GHG emissions and limit the global temperature rise to 2 degrees Celsius while pursuing means of limiting the increase even further to 1.5 degrees.
The Kurdistan Gas Project helps meet the growing demand for energy in the KRI with cleaner-burning natural gas for electricity generation, enabling the region to avoid the use of more carbon-emitting oil and diesel and in turn support the goals of the Paris Agreement. Gas today accounts for more than 85 per cent of total production from the Khor Mor plant, amounting to 110,000 barrels of oil equivalent.
Our carbon emissions efforts are also focused on increasing energy efficiency and reducing GHG across our operations. We will update our progress in future reports. We are also supportive of international efforts to improve disclosure of climate-related aspects in our industry and endeavour to collaborate in joint-industry efforts and evolve our reporting approach accordingly.
We will also continue to support our host country governments in their pursuit of sustainable development and national policy commitments to reduce their emissions under the Paris Agreement, and firmly believe that gas will play a critical role in powering the carbon transition. However, we believe that the nature and pace of this change will vary among countries and regions, reflecting their economic and development priorities.
Measuring and reporting our GHG emissions
Our Scope 1 emissions include both (i) measured emissions from non-routine flaring, generation of electricity and steam, and petrol/diesel consumption in our vehicles, based on industry standard conversion factors; as well as (ii) estimates for routine flaring, safety flaring, venting, and fugitive methane emissions, which have been identified during recently completed studies and not included in previous reports
Until now the Khor Mor Gas plant had partly measured flaring of gas and had no means of making accurate measurement of flaring. The quantification of flared gas and fugitives from our Kurdistan operations was conducted based on estimation using other quantitative measures.
In line with our emissions strategy, budgets and work programmes were established to implement additional metering capabilities during 2020 to accurately measure and report on our emissions performance. However the COVID-19 Pandemic forced a delay in these efforts as all work requiring outside contractor support was deferred until 2021. Now, with the pandemic easing, we are pursuing these initiatives in 2021, installing new meters and completing calibration of old meters during the second quarter of 2021.
In addition, all vents to the atmosphere from condensate and LPG bullets have been reviewed and revised to reflect more accurate estimations. Work has also commenced in identifying and recording critical areas such as fugitive gas emissions from sealed surfaces, valve stems, and flanges.
Based on preliminary findings from these initiatives and an independent third-party assessment in early 2021, we have re-estimated our Scope 1 emissions for the past five years, which now include the unmetered emissions due to flaring in our Early Production Facility and the estimate of fugitive methane emissions.
As a result, the Scope 1 emissions for 2020 are estimated at 295,000 tCO2e. At the restated levels, after taking into account the effects of various emission reduction measures put in place in early 2021, our annual Scope 1 emissions are expected to fall to approximately 240,000 tCO2e.
Of the total, approximately 75% is attributable to the use of fuel gas for generating electric power within the plant itself while the remainder is attributable to flaring and fugitives. As our "near zero flaring" initiatives progress, we expect this to be reduced further in the coming two years.
The indirect (Scope 2) emissions are primarily attributed to the electricity consumed at our offices and warehouses in Sharjah, UAE and Erbil, Iraq.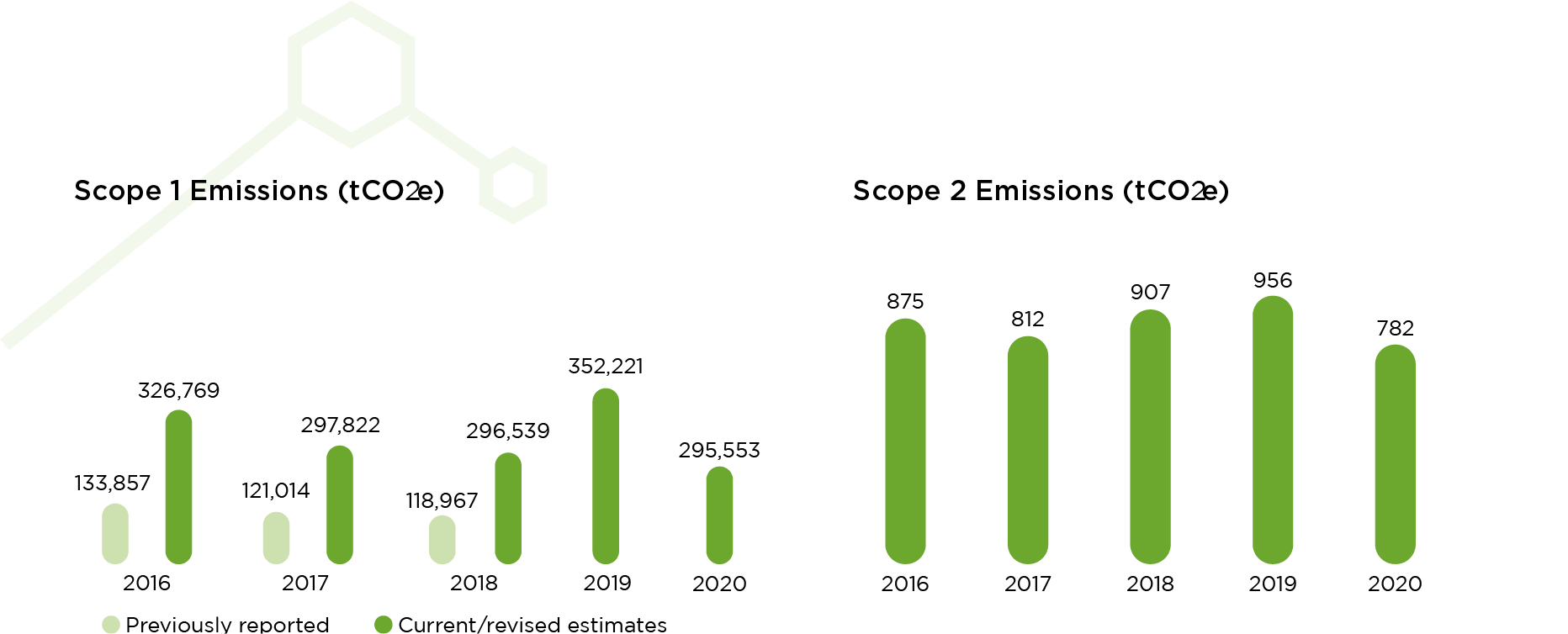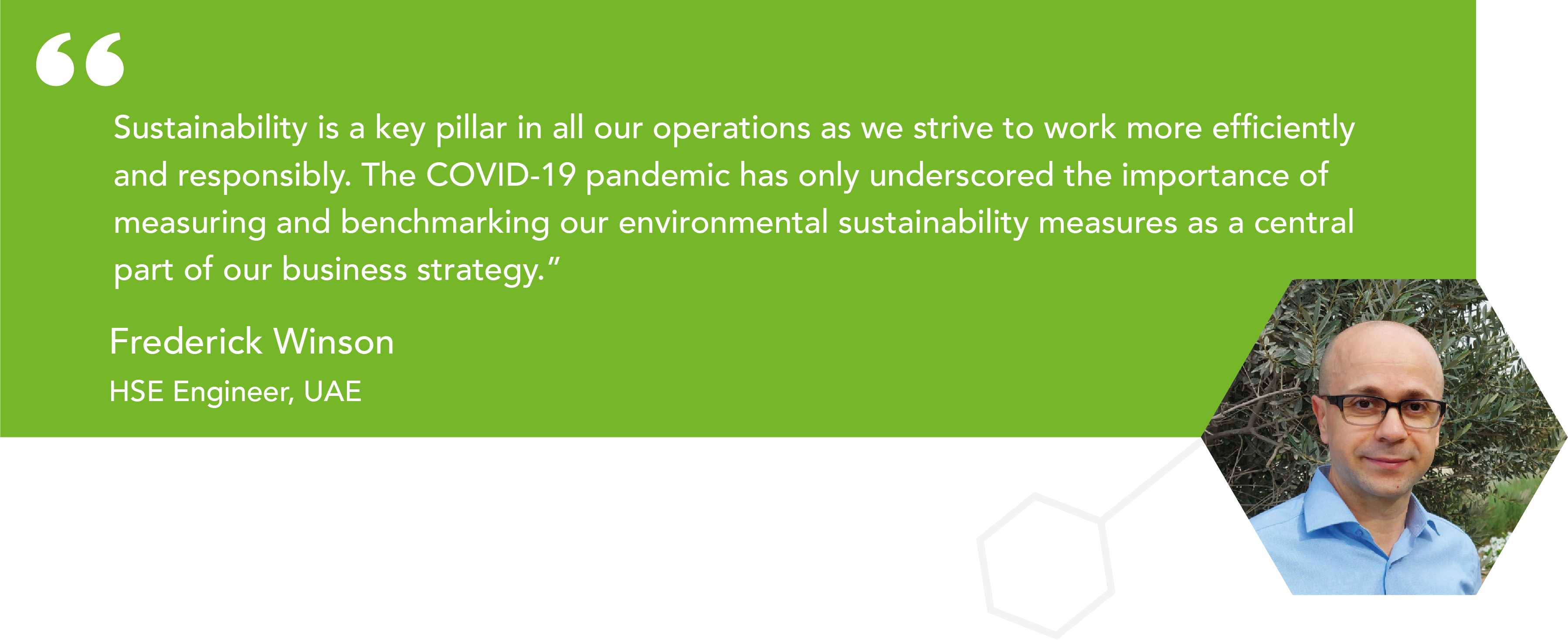 Reducing our energy intensity
We monitor our annual energy consumption to help us assess our environmental impact and to identify opportunities to reduce energy intensity, as measured against our total gas and liquids production. Over the past five years our energy intensity has improved by 11.58 per cent after a series of modifications and process improvements at the plant.
As we continue our long-term expansion programme in coming years, we expect to make further improvement in operational benchmarks against our peers.
Our energy intensity since 2016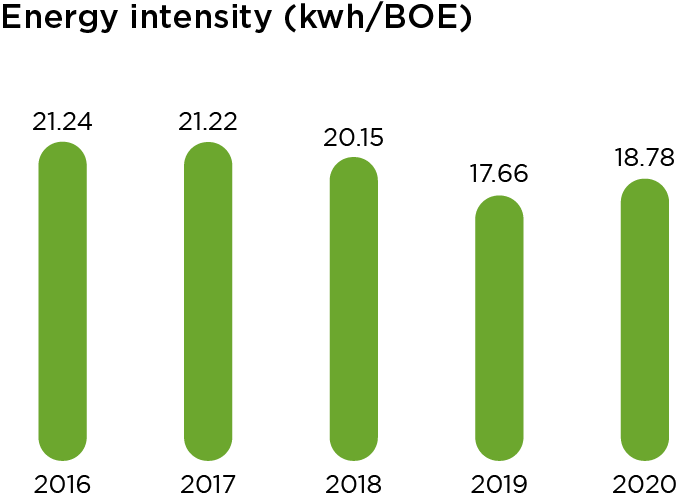 Our digital transformation efforts have also enabled significant reductions in energy consumption in several areas:
Laptop efficiency: All our laptops have Energy Star ratings and have efficient solid-state drive (SSD) as their primary storage.
Online collaboration: We have also adopted collaboration tools such as Microsoft Teams and deployed a company-wide Intranet platform.
Cloud adoption: We have transitioned some of our workloads to the cloud to reduce physical server energy consumption and currently host 45 per cent of our servers on the Microsoft Azure cloud platform.
Storage refresh: We decommissioned three ageing storage boxes in our data centre to save space, electricity, and cooling requirements.
Server optimisation: We reduced the total number of servers by 26 per cent by consolidating services and decommissioning older units.
Flaring
Our Khor Mor plant is centred around a Cryogenic LPG plant comprising two trains as well as an Early Production Facility (EPF). The EPF was set up primarily to facilitate early delivery of gas to power plants. Over the past 5 years, 91 per cent of gas flaring occurred at the EPF, while the Cryogenic plants contributed around 9 per cent.
Flaring from our Khor Mor plant production operation stood at approximately 0.5 per cent of the total raw gas processed in 2020. As a result of certain measures implemented in Q2, 2021, the gas flaring has now reduced to 0.12 per cent. We will continue to strive towards further reductions in the coming years through continuous process optimisation, improved maintenance initiatives, and greater liquids recovery.
Despite the flaring, production from the EPF has had tremendous downstream economic and environmental benefits for the KRI. We estimate that the gas produced has enabled the KRG to avoid 4.7 million tonnes of CO2 emissions by replacing diesel with gas to generate power in the KRI over the past five years thanks to the EPF. Below we outline the total avoided GHG emissions as a result of the Kurdistan Gas Project (including from EPF related production).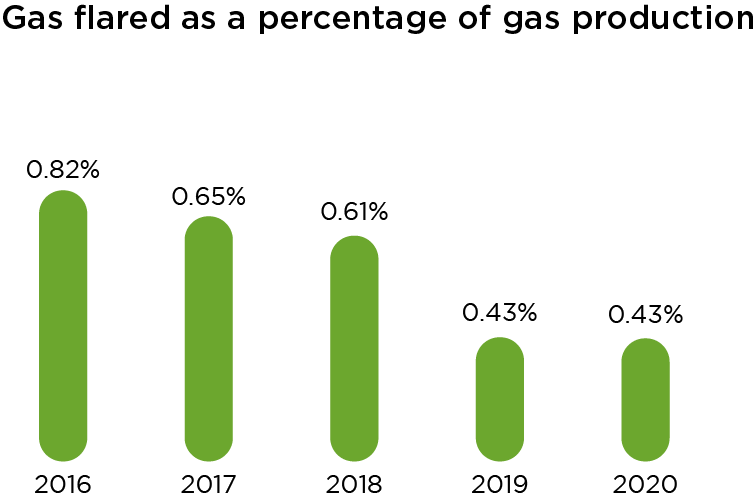 42 million tonnes of CO2 emissions avoided over the past 13 years. Equivalent to:
| | |
| --- | --- |
| | GHG emissions from 9 million passenger vehicles driven for one year. |
| | GHG emissions avoided by 9,000 wind turbines running for a year. |
| | CO2 emissions from 11 coal-fired power plants in one year. |
| | Carbon sequestered by 694 million tree seedlings grown for 10 years. |
Avoided GHG emissions as a result of Kurdistan Gas Project
Since 2008, Khor Mor plant operations have enabled the KRG to avoid 41.98 million tonnes of CO2 emissions by replacing diesel with gas to generate power in the KRI. This has enabled the KRG to avoid the use of expensive diesel for power generation, resulting in an estimated net saving to the KRG of $25 billion since inception.
In 2019 and 2020 the company avoided 9.46 million tonnes of CO2 emissions due to gas for diesel substitution with associated cost savings of $1.05 billion. These estimates are based on a PwC methodology set out in the Kurdistan Gas Project – Impact Assessment Report 2018: A ten year look back and look ahead (www.kurdistangasproject.com) published in 2018. This impact from operations will only increase in the coming decade as gas utilisation for electric power grows, offseting diesel generation further.
Minimising our waste
We are committed to reducing pollution at source through the recycling and reuse of resources as well as the treatment and responsible disposal of waste. In 2020 we recycled close to 257 kg of e-waste at our headquarters.
We have taken steps to eliminate the use of all single-use plastics from our business premises and have reduced our paper consumption using our newly implemented SAP ERP system, which features online transaction processing to eliminate unnecessary paperwork.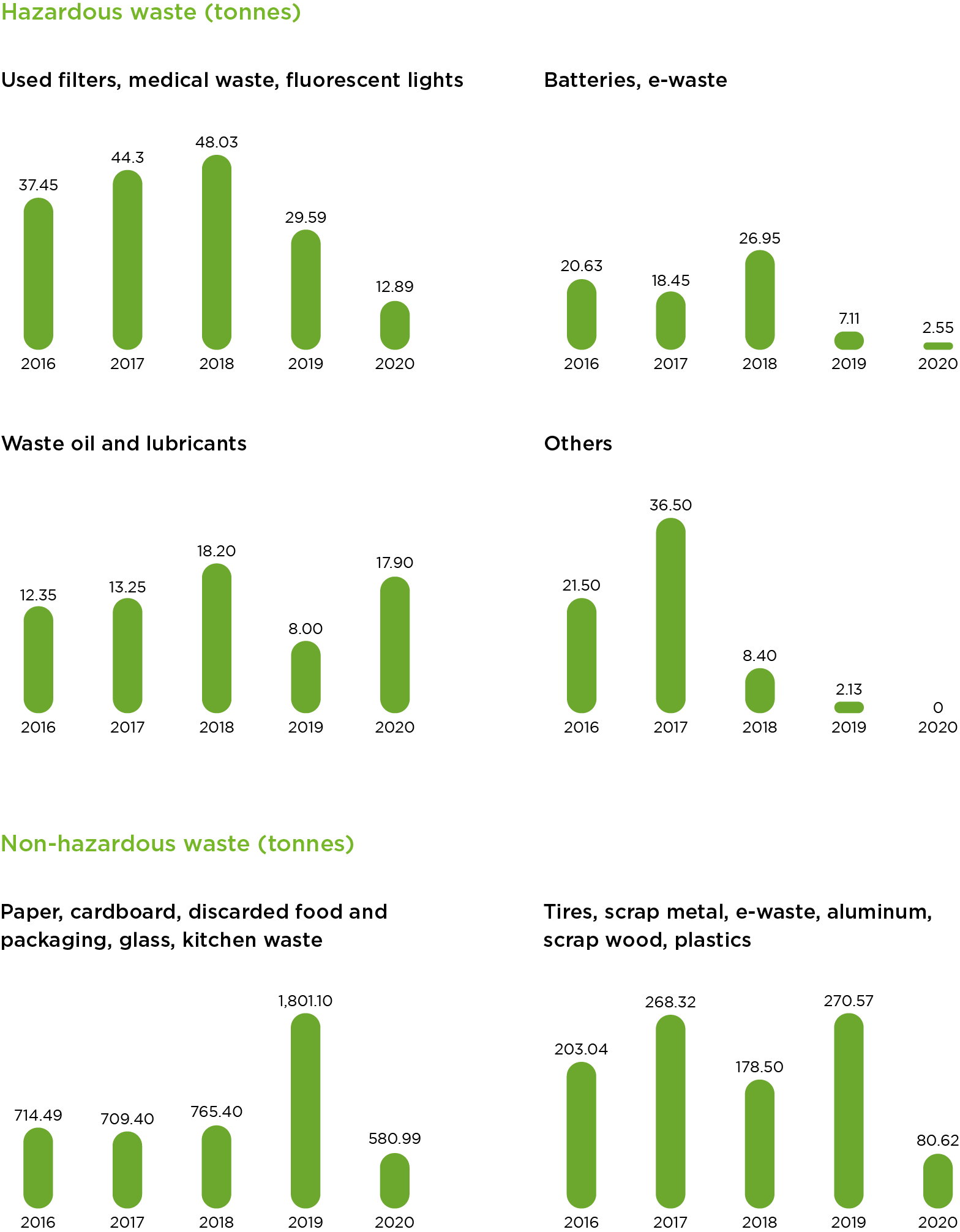 Monitoring our water consumption
Water is a shared resource. Although our operations are not water-intensive, we focus on efficiently managing our water consumption by minimising the consumption of fresh water in our operations and increasing the share of recycled water in the overall water consumption in our operations.
Our primary area of water consumption is in the testing and cooling phases of our gas operations. We consumed a total of 99,103 m3 of water in 2019 and 102,107 m3 in 2020.
Crescent Petroleum supports The Good Fight Against GHG Emission conference
Crescent Petroleum was the strategic partner of The Good Fight Against GHG Emission conference held by University of Cambridge Energy Policy Research Group and the Massachusetts Institute of Technology Center for Energy and Environmental Policy Research in September 2019 in the UK.
The event gathered policy makers, academics, and business leaders—including Crescent Petroleum President Badr Jafar—as they explored the challenges and opportunities of a global transition to a low-carbon economy.