Assessing the materiality of sustainability measures
We conducted a detailed materiality assessment exercise to define the measures that matter most to our sustainability efforts.
We consulted our major corporate units and reviewed the topics that impacted their individual functions. We then categorised these material topics according to their environmental, social, and governance (ESG) measures, and assessed their respective relevance or impact on the business, whether high, medium, or low.
The resulting material topics were further validated with our senior management as well as with select external stakeholders to arrive at the final material topics.
Materiality assessment process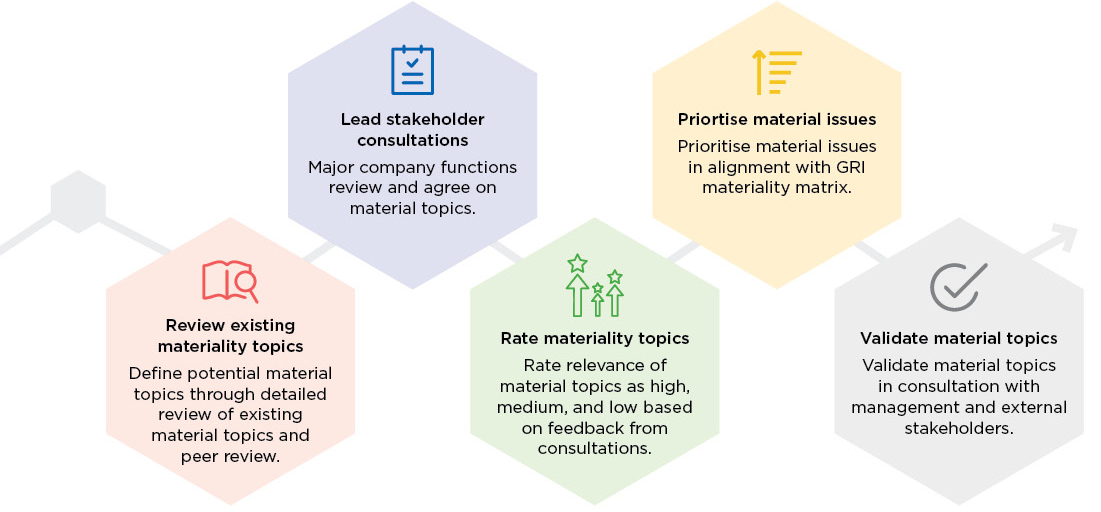 Following internal reviews and engagement, the materiality matrix for the years 2019 and 2020 is presented below. While most topics highlighted in 2018 remain unchanged in level of materiality, the training and capacity building of employees has emerged as a high priority material topic for 2019 and 2020 compared to 2018, when it was deemed medium priority.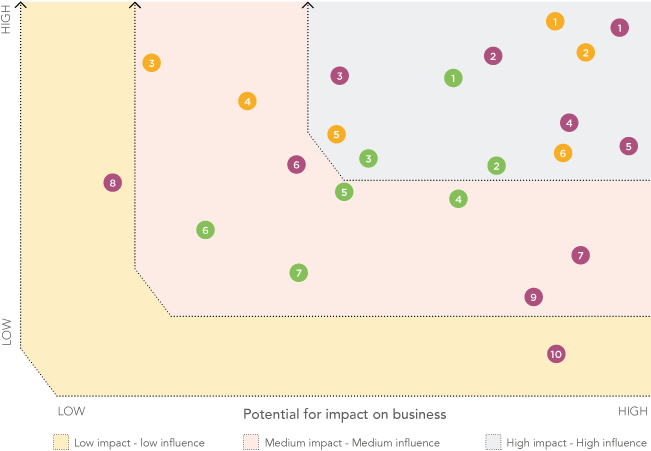 Greenhouse gas emissions
Transition to lower carbon energy market
Energy use, energy efficiency
Water management
Waste management
Effluent management
Biodiversity

Security practices
Engagement with local communities, social performance initiatives
Localisation and job creation
Diversity and human rights
Occupational safety
Training and capacity building of employees and local contractors

Process safety, asset integrity, and emergency preparedness
Anti-corruption, bribery
Compliance with regulations
Information security
Achieving financial targets, market presence
Customer satisfaction, marketing
Risk management
Research and development, and innovation
Internal engagement
Procurement practices