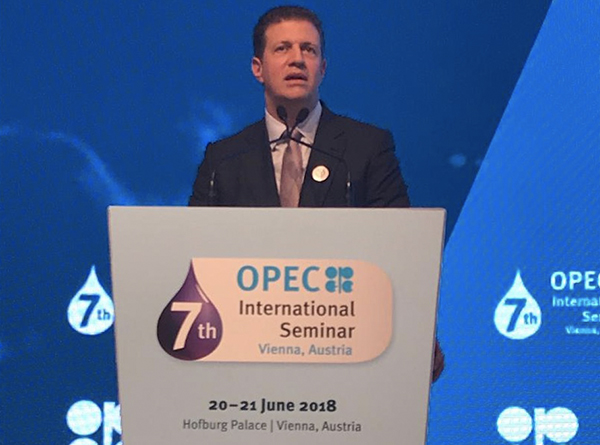 Private sector can be an important partner in meeting $320 billion in oil and gas investment in coming years, Majid Jafar tells OPEC ministers and industry leaders.
The 2018 OPEC Seminar, under the theme, 'Petroleum – cooperation for a sustainable future', examined a range of important energy issues and challenges, helping to explore existing avenues of dialogue and cooperation, while stimulating new ones.
New investment models will encourage optimal development in the oil and gas sector, Majid Jafar, CEO of Crescent Petroleum told OPEC ministers and industry leaders at the OPEC Seminar in Vienna today. The private sector in MENA can be an important partner in oil and gas development, helping boost competitiveness in the industry, he added.
"We need new investment models that will create the right incentives for upstream investment in exploration in new areas, enhanced recovery from mature fields, and gas development, where the region continues to lag despite growing demand from the regional power and industry," Majid Jafar said.
Majid Jafar, who leads the Middle East's oldest private oil and gas company and serves as Vice-Chairman of the Crescent Group of companies, was speaking at the 7th OPEC International Seminar in Vienna, Austria. More than 750 participants, including ministers, industry leaders and experts gathered at the Imperial Hofburg Palace in Vienna to discuss the global energy outlook, market stability, oil investments, technology, and the state of the world economy.
"The region needs at least $320 billion in investment over the next five years, and the private sector can be an important partner in this effort. The Middle East has over half the world's proven oil & gas reserves but represents only a third of the oil market and a sixth of the gas market today, so we have yet to fulfill our potential as a region" Majid Jafar said, speaking on the panel entitled "Investment in the Oil Industry", along with the oil ministers of Iraq and Kuwait, and international industry leaders from the public and private sectors.
"Our industry worldwide must also do better at explaining how responsible development and utilization of oil and gas can support the transition to a more sustainable economy," he said. "The switch from coal to gas-fired power generation, which emits half the volume of CO2, may have the greatest impact on lowering carbon footprint. "That is why we firmly believe that the oil & gas sectors will continue to play a vital role in meeting world's energy needs for transportation and power generation going forward, complementing renewables and other energy sources," he added.
Among numerous UAE Ministers and industry leaders attending the forum include: HE Suhail Mohamed Al Mazrouei, UAE Minister of Energy and Industry and current President of the OPEC Conference; HE Sultan Ahmed Al Jaber, UAE Minister of State and Group CEO of ADNOC; and Musabbeh Al Kaabi, CEO of Mubadala Petroleum and Petrochemicals.
Commenting on his participation, Majid Jafar said: "I'm honored to have joined industry leaders and experts as we debated the greatest challenges facing the energy sector and the regional economy.  The Middle East is a major source of the world's proven gas reserves and is also becoming a key consumer of both oil and gas.  Our prosperity is incumbent upon our ability to anticipate and respond to the dramatic changes in world energy demand."